The 34th National Young Farmer Educational Institute
Nov 28-Dec 2, 2000, Cheyenne, Wyoming
Some quick notes:
Wyoming weather is unpredictable, be sure to come prepared to go on the tours.
Child care services will be available between 6 pm until 10 pm on Thursday, Friday & Saturday.
Please be aware of any requirement for the tours.

Link to the New Wyoming Cattlewomen's recipe web site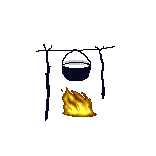 LOOKING BEYOND 2000
What a way to end this millennium other than in the LAST FRONTIER -- WYOMING! When you arrive in Cheyenne we will start off the Institute with a traditional Ranch Rodeo at our local community college. From there on you will see southeast Wyoming, ranging from the grasslands of the Laramie Mountains to the irrigated and dryland farming of the high plains.
While in Cheyenne you will be treated to western hospitality at one of the finest resorts in the region. When in town you will have the opportunity to explore the history of the West, the diverse businesses, and shopping.
Look over the descriptions of the tour sites to see all the great things you will be able to see and do while here. There will be many new and different things unique to our state for you to enjoy.
Please come prepared for any kind of weather since we will truly be changing seasons from fall to winter the first week in December. It could be anywhere from sunny in the sixties to snowing in the twenties. While we can't guarantee the weather we can guarantee a great time here in Cheyenne!!
Let's all come together to renew friendships and discover another part of our great country.
John Kaiser
2000 Institute Chair
Please look at our site to get a preview of what we plan for our institute. This site is under construction; we will be adding and updating the information as time and space allow. Please bookmark our site or add us to your favorites and check back often. We hope to provide all the information you need about our institute. We WILL NOT be providing registration via the internet for security reasons but we hope to provide registration and motel forms that can be printed filled out and mailed.
Thank you for visiting and we will see you in 2000!
home registration tours motels & travel schedule entertainment & more